About
This event promises an immersive and liberating atmosphere where exploration, connection, and playful abandon are embraced in the artful world of pleasure through rope.
Join a community of like-minded enthusiasts as you come together for an evening designed to celebrate the beauty of rope play. The rope jam will take place from 18u00 until 21u00, allowing ample time for you to indulge in an array of creative ties and connections.
This is not a formal workshop, but rather a free-flowing event meant for individuals and couples who already possess basic knowledge of rope play. Participants should have a good understanding of the fundamental safety principles and techniques, ensuring a safe and enjoyable experience for everyone involved.
The rope jam will accommodate 12 couples, creating an intimate setting that encourages personal interactions and shared experiences. Marie Sauvage herself will be present, offering her expertise and guidance throughout the event. Participants will have the exciting opportunity to be tied by Marie, should she wish to engage in the experience.
The studio has five suspension points, enabling participants to explore the exhilarating world of partial or full suspension if they so desire. The rope jam is an opportunity to push your boundaries and discover new facets of rope play in a supportive and inclusive environment.
Prepare yourself for an evening of connection, exploration, and artistic expression through rope play. An evening where you can deepen existing connections, meet new friends, or simply revel in the joy of rope.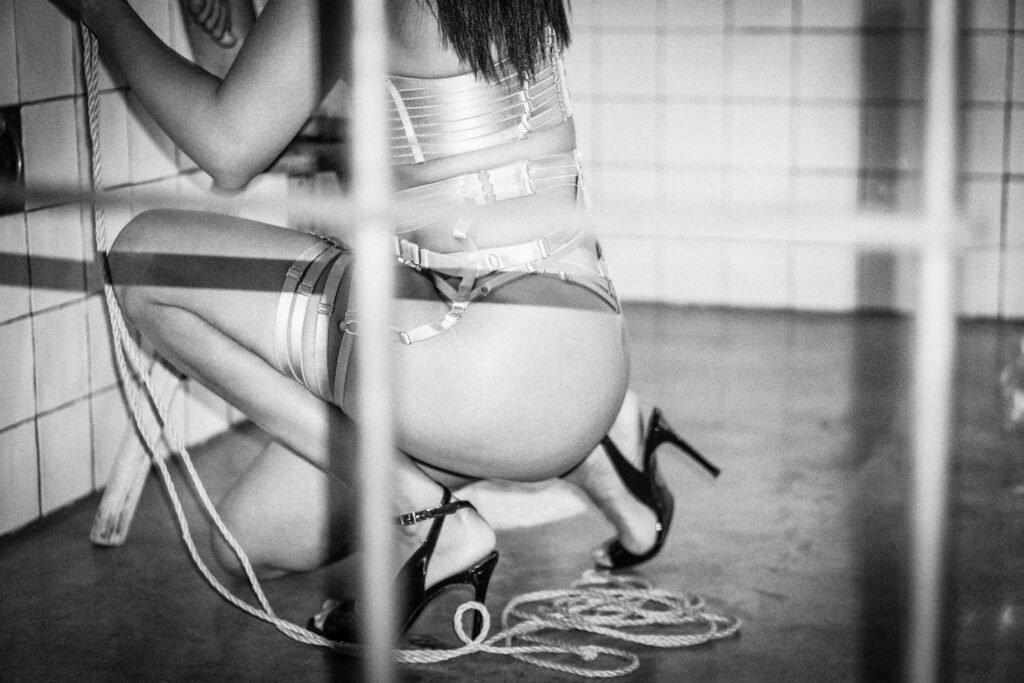 ---
Marie Sauvage
For Marie, shibari is a celebration of this intimacy. By reveling in the eroticized human body, the elegant lines of rope defy the pull of gravity, transcending both muse and audience to a realized freedom. One is left spellbound in the perfume of Marie's performance." -Alina Mahalic, The Beauty Cult
Marie Sauvage is a boundary-breaking artist known for her unique approach to Shibari, a Japanese art form involving rope tying. Studying art and finding inspiration in live drawing classes, she embraces the beauty of the human form in her performances. With a feminine perspective, she has made Shibari more accessible and intriguing to a broader audience, going beyond traditional SM culture to emphasize mutual trust and vulnerability. Marie's authentic and sensual performances create a mesmerizing experience that celebrates the intimate connection between the rigger, muse, and audience.
---
Practical
The timing
The doors open at 18u and close at 21u , please be on time.
Dresscode
Dress comfortably and freely for the rope jam, expressing your unique style and personality. This special occasion celebrates creativity and connection, so feel empowered to come as you are and enjoy the vibrant atmosphere of the event. Please note, it is pleasantly warm in our Playroom because of the floor heating.
Rope
For those who may need ropes or wish to expand their collection, fret not! High-quality ropes will be available for purchase at the studio before the workshop begins. Or be prepared & Purchase your set here
Who can attend
This workshop is limited to 12 couples, ensuring an intimate and focused experience for all participants. When we say "couples," we embrace a wide definition, recognizing that a duo can consist of any two individuals who share a mutual interest in rope tying, regardless of their relationship or gender identity. Participants must have knowledge of basic knots.
Accessibility
For those arriving by car, there is a chance to find street parking or nearby options. Alternatively, a larger paying parking (Parking Pidpa) lot is available just a 7-minute walk from the studio. If you prefer public transport, Antwerp South station is conveniently situated within a 10-minute walk from the studio.
Privacy
During the rope jam, you are more than welcome to take pictures. To ensure everyone's comfort, please ensure that no one else is inadvertently captured in your frames without their explicit permission.
Questions?
Contact us on info@spnkd.com