About
This is a workshop for curious beginners wanting to start exploring their interest in needle play. During this intensive 3 hour afternoon session, you'll learn everything there is to know for safe and sexy play. The workshop will be held in the comfort and safety of our studio. Please bring a partner, lover or ruler. this workshop is for duo's only.
Experienced piercer Femke will navigate the ins and outs of needle play, during the workshop she'll touch upon :
Health and safety
The origins of needle play
The different intensity levels
& how to incorporate needle play into your dynamic
After the theoretical information a practical demo and practice moment will follow. At the end of the workshop you'll go home with your own needle kit & handout reiterating everything you need to know.
Earn your marks at SPNKD
To end this exhilarating afternoon Tattoo artist Cheyo Winter will have one spot available for a lucky guest to be tattooed in our cage! For the occasion she created 4 unique designs to choose from. This is on a first come first serve basis; send an email to eveline@spnkd.com to discover the flash sheet and secure your spot.
The appointment will be on the 11th of March from 15u30 -17u
You do not have to follow the workshop in-order to be tattooed.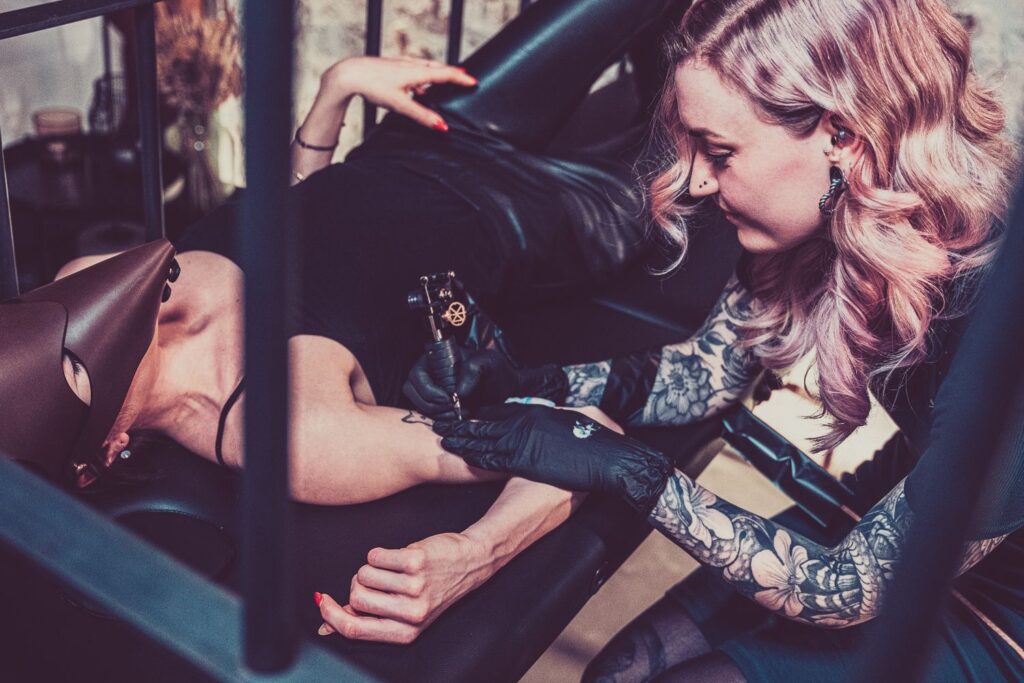 ---
The Teacher: Femke
Femke or Femkesunnexx on instagram, is an experienced Piercer with a personal fascination for needle play. Her current playground is gloryboud_tt_antwerp (Instagram) & is the powerhouse behind her 1-woman company virgopiercings (Instagram). When she's not working, she's pushing the boundaries between piercing and play. Whilst putting safety on the forefront of her work, Femke the recognizes and acknowledges the intensity needle play can evoke. Her deep understanding of kink combined with extensive piercing knowledge and knowhow, made her someone we had to introduce to our guests.
The Artist: Cheyo
Cheyo Winter is a Tattoo artist (Cheyo.Winter on Instagram), based in Antwerp, she tattoos with eco friendly and vegan ink. Her art is inspired by dreamscapes the one more twisted than the other. Her signature line work combined with astonishing creativity results in the most astonishing designs. You might also notice a wink to kink sprinkled here and there. For the occasion she has drew inspiration from the SPNKD universe & incorporated this into her sketches. We're thrilled to collaborate with such an inspiring and creative mind!
---
Sober & Safe
Due to the nature of this workshop no alcohol will be served.
Dresscode
For the workshop it is best to wear something light and comfortable. It is pleasantly warm in our Playroom because of the floor heating. The focus during the workshop is on transferring information and 'learning' techniques. Please note, this is not an erotic workshop!
During Needle play a few blood drops can occur (and if not you're definitely a vampire!) Please take this into account when getting dressed.