We invite you to Experience the first edition of CLUB SPNKD. A fusion of kink & dance that will leave you breathless, with utmost discretion assured.
Step into the daring night at Jo-An, the underground sultry club in Antwerp, where live performances ignite the stage alongside an epic DJ lineup. A Dance night that grants permission to play on a playground furnished by BDSM architecture.
For our rope enthusiasts, we've thoughtfully incorporated a suspension point. You can securely store your belongings (wink, wink) in our designated cage area or unwind on our plush tantra sofa – catering to all tastes.
If you're feeling adventurous, consider a stage appearance to embrace your exhibitionist side. And if you need a little nudge of encouragement, our in-house spanker is here to lend a hand!
Stay the night! Receive a generous 10% discount on your accommodation at the Mercure hotel located adjacent to Jo-An. Simply include the code "CLUB SPNKD" in the comments section when making your reservation at the Mercure City South.
Play, Dance, SPNKD
Psst…Spread the word! Ticket sales close on November 1st, get your crew on board while they can!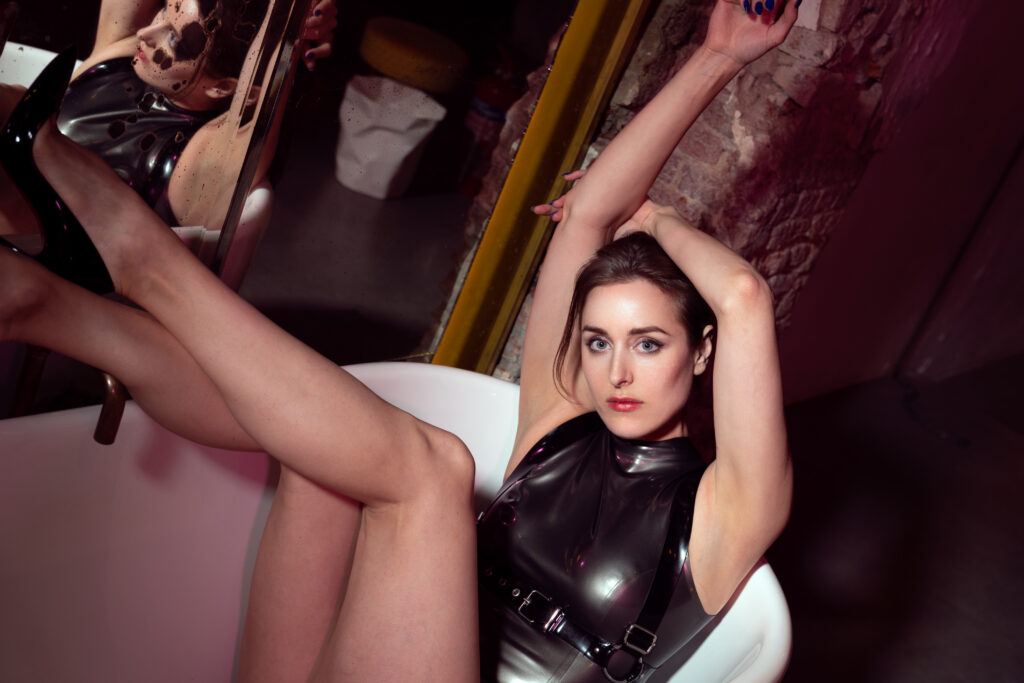 FAQ
PERFORMERS
Get ready for a night of electrifying entertainment! We've got not one, but TWO thrilling performances lined up to set the night on fire. The performances start at 23u30, be on time or wonder what you missed! 
Next to entertainment we've assembled a crew of devoted rulers to guide you, lovers, through the night. Our Doorbitch and In house Spanker are there to ensure your pleasure and make this night an unforgettable journey of delight. 
DRESSCODE
For this extraordinary 80's glam-themed evening, we invite you to embrace a distinctive dress code: Add as much kink as you desire! Indulge in tempting textures such as satin, leather, lace, or latex, and let your style express your true self. This combination of 80's glam and edgy allure promises to make it a night of unforgettable fashion and fun.
Break out the bold and vibrant styles of the 80s and let your inner style icon shine!
PRACTICAL  
The doors open at 21:30, Please arrive before they close at 23:00. We kindly request that you avoid multiple entries and exits throughout the evening.
Limited changing cabins will be provided, though we recommend arriving dressed in your final outfit. Coats and bags can be securely stored at the coat check. Additionally, a designated smoking area is available within the club premises.
RULES OF CONDUCT
No phones allowed on the dance/play floor. You are welcome you immortalize your outfits prior to entering the main venue.
As for drugs, the only 'highs' we offer at our nightclub are in the melodies and rhythms – We prioritize the well-being of our guests, and therefore, we maintain a drug policy that prohibits the use or possession of illegal substances within the club premises.
Do you feel unsafe or have witnessed unsafe behavior please notify a member of staff.
TOOLS
We wholeheartedly embrace a spirit of play, and you're invited to bring your own toys and equipment. You can either leave your bags at the coat check or choose to bring them into the play area at your discretion.
Please keep in mind the available space; larger bullwhips may not be suitable for our setup.
LOCATION
Jo-an is located at Desguinlei 94, 2018 Antwerp, Belgium. A SPNKD member will welcome you upon arrival. Join the party on time! Our doors will be closing firmly at 23u.
ACCESSIBILITY  
If you arrive by car, you can park at the parking at the hotel or at the parking across the albert Hein.
If you take public transport, It's Bus 17 stop Desingel or Trams 2 or 6 stop Desingel, both a 5 min walk.
It's a 20min walk from the train station Antwerp Zuid. Alternatively, a larger paying parking lot Pidpa is available at a 15min walk from Jo-An.
QUESTIONS? 
Contact Us for enquiries info@spnkd.com
---